davidlevine
and
scarlettina
.
Yes, we did our usual process of compiling touring plans via RideMax, this time starting with a spreadsheet and ranking system to take into account the priorities of all three people involved. (Well, how else?) And we did thus ride Soarin' twice, on a morning where wait times in the normal line were posted at 70 minutes. Overwhelmingly, however, our ease of access all day long was due to action taken months ago: when we chose to come this particular week. Crowd quotient "2 out of 10 today," said one of D's apps this morning.
Perhaps I shouldn't be telling you this.
No hot applejack cider (UK), Glühwein (Germany) or hot mint tea (Morocco) for me today, despite all the red-bowed greenery and ambient xmas music. It's "Christmas in July" down here.
We began and ended today on boats, in both cases the sole passengers. I think we astonished and delighted the people at "Living With the Land" by being there
waiting to ride
before they'd quite gotten running! "That never happens!" Bookended it with Maelstrom in Norway, which I didn't remember clearly but told Janna it was "more active than Peter Pan and less than the Matterhorn." yup. A cute little baby flume ride.
And so to bed.
Disneyparking with an avid pin trader and penny smasher puts the enterprise at a tempo I can easily manage with the still-healing knee. At Epcot today with
Originally published at Scott Edelman. Please leave any comments there.
I was flipping through the January 1898 issue of The Nickell—which, as you know, is the kind of thing I love to do, because it's the closest to a time machine I'm going to get—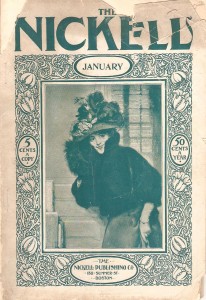 —when I spotted a poignant advertisement filled with nostalgia not just for the late 19th century—but for the early 19th century as well.( Read the rest of this entry »Collapse )
almost had a from-scratch curry actually working, for the first time ever . . . and then I got distracted and forgot to check the liquid level and let it scorch.

Fortunately, we had sandwich makings in the house.

On the positive side, scorch issues aside, the recipe came close enough to working that I'll probably try it again eventually and see if I can get it right.
I
Current Mood:

disappointed
Kaja says that, in fact, they do, but they just migrate about two blocks south, which allows them to commute. I know this because we recently tore out an old Rowan tree that had died (yes, and immediately were inundated by witches. It's been that

kind of a

year) which had a hummingbird nest perched atop it which I could see from my studio window. I was astonished to learn that the call of the hummingbird sounds very much like small, angry, turbo-charged pencil sharpener, and that they call out whenever they are looking for a mate, or are happy, sad, annoyed that their feeders haven't been refilled, feel threatened, are claiming a particular area, or notice that the moon is orbiting the Earth.
Anyway, we tore the tree out as part of a larger backyard renovation, and I was afraid that the hummingbird would have to find someone else to scream at. But no, It is now hanging around the apple tree in the front yard, no doubt patiently screaming at passers-by until we plant something else.
I find that this pleases me. They are a pleasure to watch, and I'm always amazed at anything that has the chutzpah to stand up to the crows.
The

Threnodi

Etsy

shop is now offering stuffed wasp eater weasels fo sale (https://www.etsy.com/listing/159086800/licenced-girl-genius-wasp-eater-plush?ref=pr_shop), which are guaranteed to send cats into paroxysms of ennui, if ours are any indicator. The Studio Foglio

webstore

is also now offering embroidered patches. We made these up for the

Kickstarter

campaign, and had enough left over that we can sell them to the sartorial elite. (http://www.topatoco.com/merchant.mvc Screen=CTGY&Store_Code=TO&Category_Code=GEN-PATCHES) Hurrah! Christmas is saved.
Later this week we will be making the pilgrimage to see The Hobbit (Part 2; Oh, This Again). This time, we will not subject ourselves to the 3-D version, which annoyed the socks off us the last time around. Hopefully they won't

witter

on about The Power of Friendship or do too much L.O.T.R. foreshadowing this time, though I'm, frankly, pessimistic. However there is a big-ass dragon and Martin Freeman, so they're going

to

have to work hard to screw this up.
The Smart Set
. A genre fiction person, he was not very familiar with querying non-fiction magazines. (Hint: it's usually the managing editor or section editor.) So I gave him a few tips and a name. Then a few weeks later we met again and the guy told me, "I wrote to the editor and asked if they took reprints. He didn't write back." I didn't say anything but I did have a thought, and a prediction:
He'll
never
place anything with
The Smart Set
.
And indeed I was correct. I don't know if leading with the question of reprints was really the reason, but I wouldn't be surprised if it was. TSS pays real money for real essays; why would they want second-hand material? Even in the field of service journalism, where evergreen material is constantly recycled and occasionally reconceptualized, material isn't often simply reprinted. (Reblogged, for free, by the lowlifes at
Huffington Post
, sure.) You have to rewrite, localize, whatever.
And in fiction, reprints are generally worth less than original material.
Now, it is true that we are living in what I called a
golden moment
for reprint anthologies. It's fairly easy to sell a reprint these days, even for the non-famous, but the markets themselves are generally reprint markets.
What I've been noticing lately is that when I make a note about wanting to see submissions or pitches for various projects I'm working on:
The Big Click
, or my day job anthology
Phantasm Japan
, people have been asking right away, "Do you take reprints?" Bigger names have simply been
sending me
reprints.
Is this a bit of advice people are getting now? "Always ask if the editor wants to see reprints before offering anything new?" Because if so, it is terrible advice. As far as I am concerned, asking this question is like tripping the editor, dropping trou, squatting over him, and easing out a big snaking turd onto his face, while shouting, "This is what I think of you! THIS IS WHAT I THINK OF YOU!! YOU LIVE TO EAT MY SHIT!"
And needless to say, those authors just talked themselves out of consideration for those projects. If I wanted reprints, I'd ask for reprints. Hell, if I wanted reprints, I wouldn't need to make even semi-public calls. I'd read in the field I wanted to buy from, and contact the authors privately to solicit the reprints. My checkbook is large enough and my projects prestigious enough that I want new material, and I want excellent new material. It's even fairly easy for me to get—when I open things up, it's partially because I'm a little dissatisfied with the material I am seeing, and partially due to the same romanticism that made
Haunted Legends
the first Ellen Datlow project with open submissions, and that made
Clarkesworld
a magazine with no form rejection letter.
Now some editors may disagree with me about being asked about reprints before being offered new material. Almost surely some editor will pop up and say that they like any sort of question, professionally asked. And I'd like to say: consider the source. I note that the more mental energy editors put into some notion of fairness to writers, the less concerned they are about readers. That is, they don't have very many readers. POD anthologists with 1c a word budgets, CreateSpace publishers with convention dealer's room-only print distribution, micropresses with a 1000-book list with each title selling fifty copies...they may love being asked fancy business questions like "Do you take reprints?" Then they get to give fancy business answers like "Only if it's very good!"
And some of the poor semiliterate dears will even say, "But reprints have a place in publications!" or "What about that reprint you ran once!?" as if I said anything about reprints being unnecessary or forbidden. If you are confused, go back to the top of this entry and read it again until you hit this sentence. Repeat as necessary.
I, on the other hand, am working in a buyer's market. I don't like that kind of thing, and when I was starting out it was made very clear that absent specifics one should submit or query new material, not reprinted material. It should go without saying that of course when you have an opportunity open up before you, you grab at it with both hands! And that means having something ready to go, or making time and space in your life and schedule to produce something new. "Would you give me two weeks?" is a perfectly fine, professional initial question. "Do you take reprints?" is just a way to lose an opportunity so far as I am concerned.
A few years ago I met an online acquaintance for a face-to-face lunch. He was a writer and wanted the inside scoop on playing essays with

Two observational results, the density profile from simulations performed in the ΛCDM scenario and the observed flat galactic rotation curves, are taken as input with the aim of showing that the galactic halo possesses some of the characteristics needed to support traversable wormholes. This result should be sufficient to provide an incentive for scientists to seek observational evidence for wormholes in the galactic halo region.

Also posted at Dreamwidth, where there are comment(s); comment here or there.
Tropical Bird of Paradise by my driveway.
The giant Liquid Amber tree in my front yard.
Winter? Fall? Who cares, it's gorgeous and chilly!
Directed by an email, I logged into student records late last week to find the following:
A sequence of happy gifs would not do it justice. I am happy beyond gifs. I worked very hard and, after seeing the preliminary mark for my dissertation – a merit – I feared I would not get a distinction. My dissertation is indeed a merit (a good one), but all three of my coursework modules are distinctions. COURSEWORK VICTOR.
I got an average of 76 for Alexander's Afterlife, which makes me want to see the essay-by-essay breakdown. (Fellow UK students will know why that's quite good.) I got a 70 for S&M – no, not that S&M, calm down, it stands for Sources & Methods – which means my personal reception of Psáppho essay must have got quite a good distinction, or that the one I wrote in two days and finished at 4am on the extended deadline was not as terrible as I thought at 4am. Or both. (I never had the courage to look at the preliminary mark for that one. I am not a good academic writer at speed, but I am perhaps not a terrible one.) I don't have an average for the Ancient Near East module yet because it was done at UCL, not KCL, but my lowest preliminary mark was 68 and my highest 77 (for the essay on elite Neo-Assyrian women's roles in the textile industry, whee!), so it's going to be around 73 or so?
I did well.
I will raise every glass of Champagne/sparkling wine over the holiday period to this distinction.
Originally published at Alex Dally MacFarlane. You can comment here or there.
I don't know why this has been on my mind all day, but it has, so here goes.