stillsostrange
and I survived the zombie run, despite bankruptcy (theirs), cold (Texas's), and insufficient packing (mine.)
I'm plugging away on
Karen Memory
, though I've hit that bit in the middle of the book where I have to stop and think about things. This is complicated by some reasonably scary family medical stuff that's causing me fairly significant anxiety. Still hoping to make my deadline, but it might be a near thing. Fortunately,
scott_lynch
will be coming out to visit me after his Exciting Toronto Book Tour! (He's signing at the beautiful Bakka Phoenix this weekend!) and that will help make everything better.
But the really exciting news is that Emma and Will and I have finally finished "Dark Leader." Or at least, nearly. It's got one scene left to be written, and then it goes to beta read, and there will be NEW MUCH-DELAYED SHADOW UNIT. And after that, three more episodes. 0.0
And I just got a bunch of other small projects cleared up. So all that's left is Karen, really. And some nonfiction stuff I need to do.
45400 / 80000 words. 57% done!
I need to get on this. 0.0 Augh, deadlines and life.
And here's my honeydew list now.
2013:


"Dark Leader": April 2013
OWW Review: 15 December 2013
Thing for Boskone: 10 December 2013
"Covenant" line edits
Essay contacts
Interview questions for JJA
Award reading and judging
2014:

Karen Memory:
6 January 2014
Cyborg story: 28 February 2014
Sekrit project: February or April 2014
Tiptree story: 30 June 2014
Apocalypse story: 30 June 2014
"A Time to Reap": 1 August 2014
Other apocalypse story: 31 December 2014
Book proposal:
Eternal Sky
4-6
"Something's Gotta Eat
T. rexes
": ?
An Apprentice to Elves
: ?
travel and appearances 2014:
MIT SFS: Cambridge, Massachusetts, January 10th at 6 pm. (with
scott_lynch
)
Boskone: Boston, Massachusetts, February 13-15, 2014
Tucson Festival of Books: Tucson, AZ, March 14-16, 2014
Vericon: Harvard Univerity, Cambridge MA, March 22-24, 2014
RavenCon: North Chesterfield, Virginia, April 25-27th, 2014 (Guest of Honor)
4th Street Fantasy: Minneapolis, Minnesota, June 20-23, 2014
ConVergence: Minneapolis, MN, July 3-7, 2014
Finncon: Jyväskylä, Finland, July 11-13, 2014 (Guest of Honor)
Worldcon: London, England, August 14-17, 2014
ICON: Iowa City, IA, October 31-November 2, 2014
Windycon: Lombard, IL, November 14-16, 2014
2015:

Weird West story: August 2015
Whew. Well, I have been a productive bear!
Current Mood:

cranky

Current Music:

Shriekback - Mercy Dash (Ready for This)
Sorry for the radio silence. Been busy working something out:
Much more work to do, and most of it has to be free hand. I just didn't want to mess around with perspective grids, so I cheated a little. Probably made more work for myself than I need, but anyway, that's the last hint you get from me before I finish the card and send it out.
Hope everyone is staying warm. It's supposedly going down to -6°C tonight. Bt chilly, yeah? So take care.
Lee.
crossposted from Lee Edward McIlmoyle's blog
Start to Finish
, begins January 9th. This is an online, asynchronous workshop-style class with "lectures." Four weeks, easy to squeeze in! Good if you're working on something specific. Do sign up.
My contributor copy of
Caledonia Dreamin'
came in today. See?
It's a nice-looking volume. My story is "Drive the Warlike Angles Into the Sea!!!" and I hope people read it. It was a labor-of-love type story, in that I was eager to be in this book for, among other reasons, the chance to write some
Yes
propaganda (the book itself is neither for nor against). I also only got £20 for it. But these days, I feel that a lot of anthologies are fairly cynical, with themes designed either for Kickstart friendliness (e.g., Twenty Authors With Blogs!), or being created via mix'n'match—Steampunk Zombies! I liked that this one is focused closely on language and place, and was wide open as far as storytelling goes. Check it out.
Colin Wilson died last week—we wondered if it wasn't a hoax when only the
Times
(of London) had an obit. It took all weekend for the other papers to get their file obits together. The UK press is playing one last round of "Bash Colin" as well, as in this
sort of concern trolling into the afterlife.
Haven't seen any US newspaper obits for Wilson yet at all.
The New York Times wrote about him...
back in 2005. Don't wear yourselves out, Gray Ladies!
My LitReactor writing class,
Not to mention
my own derivative spin of Voice 2, which was urging me to keep the chocolate on hand because what if I need a hit of chocolate three months from now when I'm burning the midnight oil, and there's none in the house because I was listening too much to Voice 1?
I tell you, some days the noise in my head is worse than a hair salon before an awards show. I'm glad to report that my sensible self prevailed over all these voices (i.e., I need the fridge space for better food, so I dumped the mess into the sink) -- and in less time than it took to type all this -- but holy hell. I'm getting better at recognizing the voices before they tie me into knots, but as my co-worker Gail told me a long time ago, "Your parents know which buttons to push -- after all, they installed them," and rewiring those circuits takes time.
---
A plus side to having a spaghetti-wired brain is being able to amuse myself even with rags. When I built a t-shirt fort for the hydrangea last month, I raided my husband's scrap box, which included this tee:
At the time, the hackberry and walnut trees nearby were shedding leaves like crazy. So I was giggling to myself as I planted that little bit of meta.
This entry was originally posted at http://zirconium.dreamwidth.org/71262.html.
Sometimes I just have to laugh at my mama's voices in my head. (Okay, more often than just "sometimes.") Today it was when Voice 1 was nagging at me to watch my weight (so, yes, it would not only be okay to throw out the charred chocolate from Sunday's candy-coating debacle, but I actually should) and Voice 2 was simultaneously ordering me to put the whole mess into a freezer bag because it's still edible and the $1.09 I spent on it (i.e., a half-bag of milk chocolate morsels on sale) would become $5.09 in twenty years (assuming an average annual compound interest rate of 8%) and that $4 earned would likely pay for three tins of tunafish and a bag of rice and a carton of frozen spinach if that's all I can afford by the time I'm too decrepit to bus tables or otherwise scrounge for my daily bread.
Current Location:

Nashville

Current Music:

David Bowie in the Vuitton/Venice ad
Also posted at
Dreamwidth
, where there are

comment(s); comment here or
there
.
I have two ebooks that need reading.
Aaargh, it's painful being so close, yet.... Oh, and I bought a really nice-looking, waterproof, fleece-lined, 7-layer car cover to protect the machine until spring... assuming I can get the thing started, drive it to the car-wash, wax the hell out of it, then drive it home (I really don't want to turn my driveway into an ice-rink). Soon, soon.
---
Now to put "cold" into perspective: Check out the coldest place on Earth, a ridge high atop Antarctica's East Plateau, where temperatures can dip below
-133° F (-92° C)
on a clear winter night. Yes, that's NEGATIVE ONE HUNDRED AND THIRTY-THREE DEGREES, aka NEARLY ONE HUNDRED DEGREES BELOW FREEZING in either temp scale:
Of course, that's a balmy-sounding 181° Kelvin. Which would make me sweat just thinking about it. IF MY FINGERTIPS WEREN'T FREEZING OFF.
Maybe this place is what
Dante was thinking about when he planted ol' Lucifer in ice he couldn't escape
.
Scientists at the
National Snow and Ice Data Center made the discovery while analyzing the most-detailed global surface temperature maps
to date, gathered using remote-sensing satellites like NASA's Aqua satellite and Landsat 8.
They need to use this level of sensor equipment because thermometers won't even work at such temperatures.
Neither do human beings. Heck, I bet even
ice
falls apart at temps like that.
---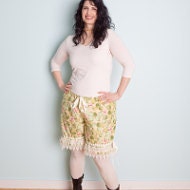 Speaking of cold humans, a plug for

clevermanka
's Etsy shop:
Are you or those you love suffering from chilly legs during this cold snap? Looking for the perfect Xmas gift for your skirt- (or kilt!) wearing friends? Then check out the
Bloomershop Etsy shop
, which is having a 20% off sale right now! Use the code "
TOASTIES
" to get the special discount. Lydia makes custom bloomers, too, if you prefer different fabric or trim, or need a special size. Support independent makers for your gifting needs! Plus they're just plain fun.
Chris
I've been a big baby about the temperatures lately, so haven't yet tried to start the Hot-Rod Newport since rebuilding the valvetrain. With temps in the teens and single digits, MY digits simply don't want to hold metal tools and parts outside... where the car rests beneath its carport. Last week, though, I made some progress: Finished pulling apart the valvetrain, replaced a total of three pushrods, replaced one pair of roller lifters, ground smooth two banged-up rocker arms, adjusted every single lifter-pushrod-rocker team to 1/4-turn of preload (the best I could identify for how my Comp Cams roller lifters should be adjusted), reinstalled a new valley-pan and intake manifold and associated hoses and wires, and replaced the valve covers. ALMOST READY TO START. Here's some of the carnage (those pushrods should be straight, and the loose bits should be attached):
Forgot to say: for those of you who have wads of cash lying around, for this fundraiser I'm attempting a first: a Tuckerization. My head usually doesn't work that way, but I think I could make it happen this time. Anyone who wants to be Tuckerized will end up a cackling bat!
Also, critique offer. That can include novel length.
Click the pic if your wallet is just too weighed down with simoleons, and you need to lighten the load!
Aka, yipee, the snakelet let me write! Still no headspace for a novel, though I'm slowly getting back into my research and wrote a whole new scene in my chapter 5 (aka, all Hell breaks loose for one particular character, who really has no luck whatsoever).
Temp title "What the Sea Holds no Sway". Snippet:
 In Bao Lan's dreams, bots danced: they banked and dipped and turned over the red soil of Mars, moulding the clouds of dust they raised into ephemeral figures–the boy Cuoi and his banyan, the strategist Khong Minh and his crane-feather fan–they whirled and reared, tracing words in the flowing writing of calligraphy masters, poems like the ones hung on doorways for New Year's Eve, bringing up memories of bygone feasts in a vanished land, in the days before the evacuation…
Sent it off to a couple readers, and meanwhile will go see what the %%% is wrong with our hot water supply…
Cross-posted from Aliette de Bodard
Leave a comment at original post, or comment here.
Random quote of the day:
"Corporation, n. An ingenious device for obtaining individual profit without individual responsibility."
—Ambrose Bierce, The Devil's Dictionary
Disclaimer:  The views expressed in this random quote of the day do not necessarily reflect the views of the poster, her immediate family, Siegfried and Roy, Leonard Maltin, or the Mormon Tabernacle Choir. They do, however, sometimes reflect the views of the Cottingley Fairies.
Mirrored from Better Than Dead.