I bring you publications and stuff!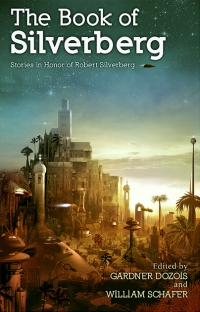 THE BOOK OF SILVERBERG! Edited by Gardner Dozois and William Schaffer. Out next week. and full of stories and essays inspired by the work of Robert Silverberg. Including one by me!

Table of Contents
Greg Bear—A Tribute
Barry Malzberg—An Appreciation
Kage Baker—In Old Pidruid
Kristine Kathryn Rusch—Voyeuristic Tendencies
Mike Resnick—Bad News from the Vatican
Caitlin R.Kiernan—The Jetsam of Disremembered Mechanics
Connie Willis—Silverberg, Satan, and Me…
Elizabeth Bear—The Hand is Quicker
Nancy Kress—Eaters
James Patrick Kelly—The Chimp of the Popes
Tobias S. Buckell—Ambassador to the Dinosaurs

Publishers Weekly liked it a lot, and gave it a review which included the following: "Standouts include Mike Resnick's "Bad News from the Vatican," which follows up on the idea of a robot pope, and Elizabeth Bear's "The Hand Is Quicker" which explores the nature of addiction and perception in a society obsessed with virtual reality."

Lois Tilton at Locus reviewed it positively and says of my story, "...cynical move worthy of the master at his most depressing." (I have just been compared to Robert Silverberg and not found wanting. This is a career highlight.)

And Library Journal says, "Standouts include Connie Willis's adorably weird 'Silverberg, Satan, and Me or Where I Got the Idea for My Silverberg Story for this Anthology' and Elizabeth Bear's bleak future of false facades 'The Hand is Quicker.' …These stories will resonate most with readers familiar with Silverberg's work, often being playful riffs on his famous stories or novels, but the tales can be enjoyed on their own merits as well." [full review not available online]

Well done us, I'd say. It's available April 30th.




Also out soon--May 13th!--is DEAD MAN'S HAND, an anthology of Weird West tales edited by John Joseph Adams.

Table of Contents:

Introduction—John Joseph Adams
The Red-Headed Dead—Joe R. Lansdale
The Old Slow Man and His Gold Gun From Space—Ben H. Winters
Hellfire on the High Frontier—David Farland
The Hell-Bound Stagecoach—Mike Resnick
Stingers and Strangers—Seanan McGuire
Bookkeeper, Narrator, Gunslinger—Charles Yu
Holy Jingle—Alan Dean Foster
The Man With No Heart—Beth Revis
Wrecking Party—Alastair Reynolds
Hell from the East—Hugh Howey
Second Hand—Rajan Khanna
Alvin and the Apple Tree—Orson Scott Card
Madam Damnable's Sewing Circle—Elizabeth Bear
Strong Medicine—Tad Williams
Red Dreams—Jonathan Maberry
Bamboozled—Kelley Armstrong
Sundown—Tobias S. Buckell
La Madre Del Oro—Jeffrey Ford
What I Assume You Shall Assume—Ken Liu
The Devil's Jack—Laura Anne Gilman
The Golden Age—Walter Jon Williams
Neversleeps—Fred Van Lente
Dead Man's Hand—Christie Yant

This includes my story "Madame Damnable's Sewing Circle," the seed that eventually grew into Karen Memory (out from Tor next year). So if you'd like a little foretaste of that--and tastes of the Weird West from all these other wonderful writers--here's a great opportunity to get in on the ground floor.

Publishers' Weekly is equally complimentary of this one, and calls my contribution "impeccably crafted." They've also got me gagging to read the Lansdale, Liu, and Williams contributions.

Squeee!